December 7th 2017 at 7:30pm
La Familia
Members $10 - non members $12
A reminder that tickets for Micah Barnes' "Christmas In New York" concert on December 21st are now on sale at Bop City and Thursday Night Jazz, . You will recall, Micah was the bass singer with The Nylons, and there's an abundance of his performances to view on YouTube. Tickets for this special event are already selling fast: $20 for members, $25 for non-members. A sample of Mica's singing Micah Barnes Selection
We are often asked to play more of specific styles of music. High on that list is Latin American. If you're one of those people this the place for you, when Nanaimo's Latin American Band La Familia takes the stage until 10pm.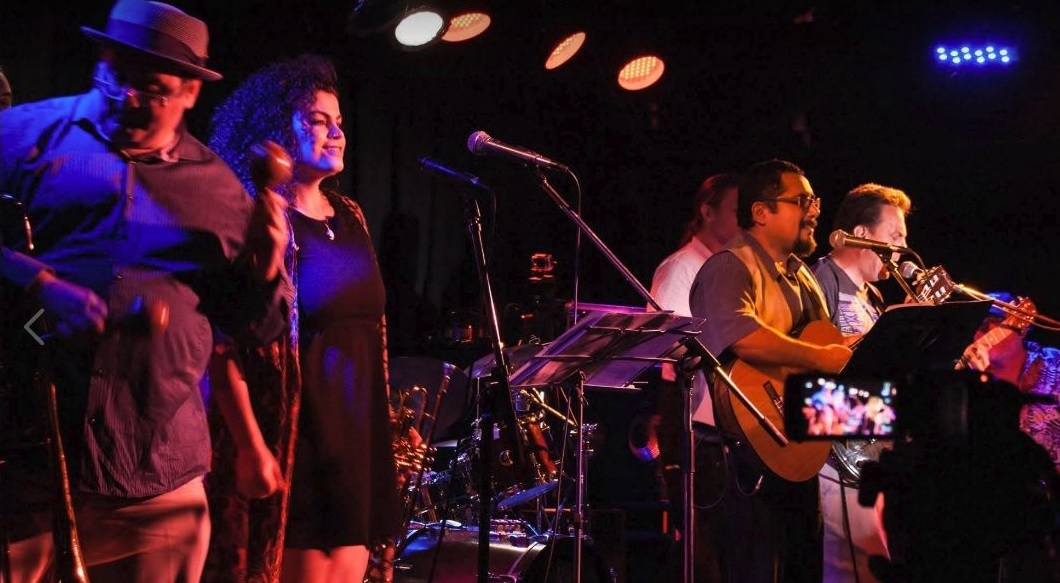 The richness of Latin-American music is amazing, with a mosaic of rhythms, styles, instrumentation, and languages that are colorful, passionate and surprising as one scans through the Latin-American geography. The chief motivation behind the formation of La Familia was sharing this cultural legacy with the people of Vancouver Island and mainland. The members of La Familia are Antonio Velez, Bill Smith-Nunez, Cesar Valencia, Rodrigo Moreno, Amelia Thomas, Len Imbery, Jill McElwain, Darren Nilsson, and Alicia Silkie Murray.
Their repertoire of music covers a vast variety of styles of music including salsa, cumbia merengue, rumba, vallenato, reggae, son Cubano, etc.. Featured instruments include Latin percussions: congas, bongos, trombone, trumpet, accordion, piano, guitars, bass and their repertoire includes songs made famous by Santana, Buenavista Social Club, and Gypsy Kings.
Since the formation of La Familia in 2014, the common vision has been growing as a group to become creditable ambassadors of this beautiful music and in that way to enhance the multicultural richness of Vancouver Island, British Columbia and Canada. La Familia has been gaining momentum with every gig. "We witness firsthand the power of music, transcending borders and languages and bringing people together from different backgrounds with the single purpose of having a great time. We have played in important festivals such as the Multicultural Festival and the Bathtub Race in Nanaimo, and the Fusion Festival in Surrey".
The band is committed to making Latin-American music known to the people of Vancouver Island, and beyond. "We feel fortunate that everyone who hears our music is taken to another place and time and has the opportunity to celebrate and explore the cheerful songs and rhythms of Latin America. What we create is upbeat Latin-American rhythms for soul and body".
Tthis is your opportunity to warm yourself up on a winter evening, in the company of other regular live jazz music fans who will make you feel really welcome. Treat yourself to a Latin moment, and discover why Courtenay has become a hotbed for live jazz music, and why people from beyond our region are taking the time an effort to see our Thursday night performances.
For additional information about the amazing series of jazz performances we have on offer between now and the end of May 2018, please select the calendar tab.
GSJS showcases jazz live in the Comox Valley, giving music lovers an opportunity to enjoys local, regional and internationally-known jazz musicians.