November 23rd 2017 at 7:30pm
Trevor Giancola Trio
Members $10 - non members $12
Following Ralph Barrat Group's amazing Mose Allison retrospective show last week, featuring some of the Valley's finest musicians, Georgia Straight Jazz Society is excited to switch to musicians from the other side of the country, by presenting the Trevor Giancola Trio, a Toronto-based band. This is a must-see performance by one of Canada's finest jazz musicians, especially for jazz guitar lovers.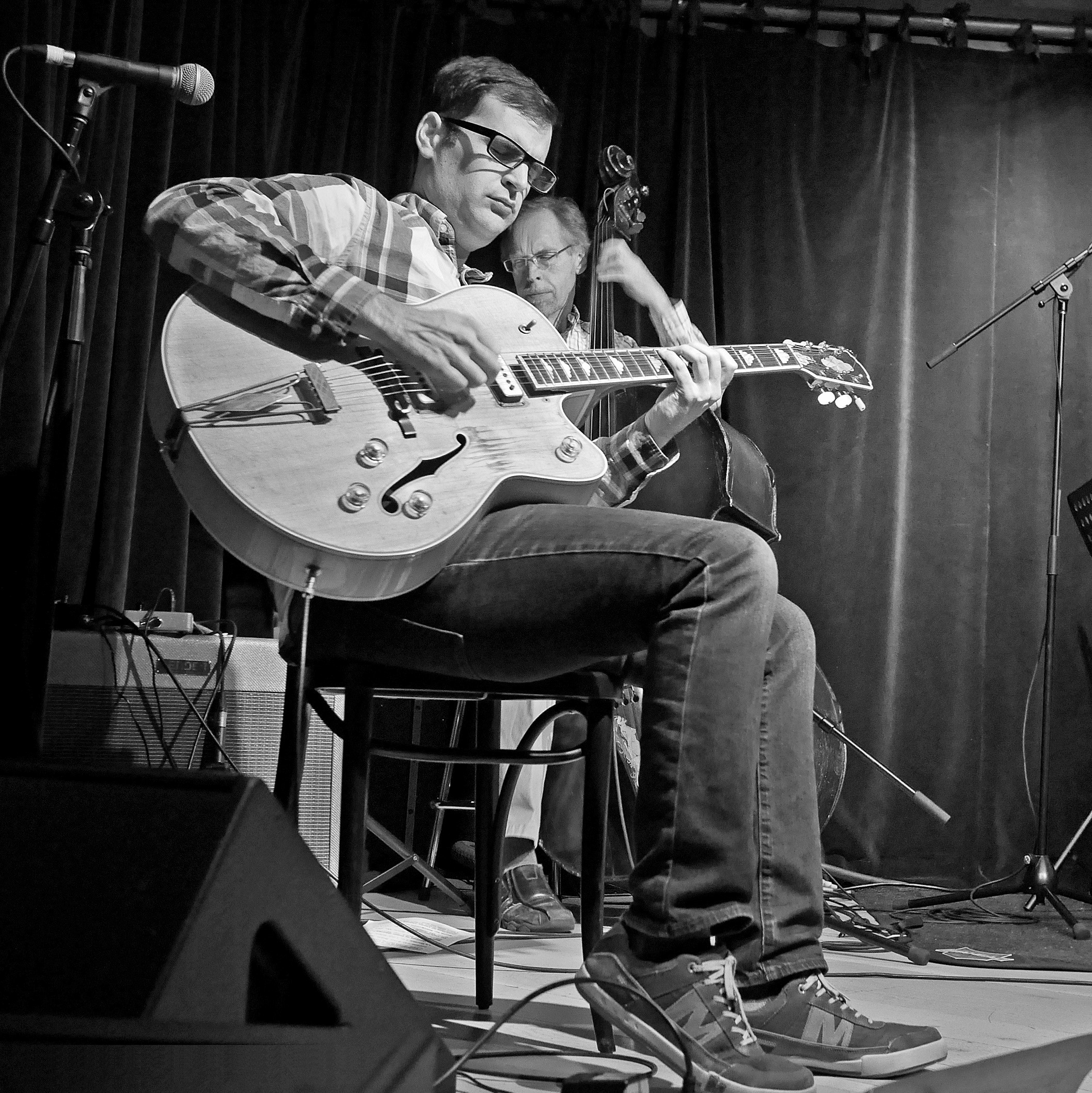 Chris Spector - Midwest Record - said, "This guitar trio is top shelf single malt. They just play wonderfully. Playing for the joy of playing - what a concept!" Raul Da Gama - Jazz da Gama - wrote, "Giancola's deep feelings for the music are obvious in the breadth and emotional resonance he brings to (it). The fluttering figurations of his guitar speak with a delicate poignancy and the music blossoms into that ecstatic exaltation so characteristic of this music. Playing with innate grace and beautiful, loping lines, Trevor Giancola plays wise beyond his years, like an old master".
The Trio has released an album of beautiful standards and originals. The musicians' varied melodic backgrounds enable the group to approach originals and standards in a unique and diverse way.
Trevor Giancola (34) has been playing the guitar since an early age, and has been immersed in the Toronto jazz scene for the past 10 years. He has performed with Mike Murley, Kelly Jefferson, Seamus Blake, Donny McCaslin, John Macleod, Phil Dwyer, Sophie Milman, John Abercrombie, Pat Labarbera and others. Trevor has been a faculty member at Humber College since 2009.
Bassist Jon Meyer (33) has performed with other jazz artists, including Peter Appleyard, Tony"Oulabula" Bazley, Ned Goold, Terry Lukiwski, Norman Marshall Villeneuve, David Virelles, Lee Wallace, Perry White and Jake Wilkinson. He has played on numerous film and television soundtracks and has toured extensively throughout North America and Europe.
Drummer Adam Arruda (26) has been surrounded by music from a very early age, growing up in a musical family. Now residing in Brooklyn, NY, Adam is among the most sought-after drummers in the music world, He has had the privilege of working with such artists, including Greg Osby, Dayna Stephens, Gilad Hekselman, Kevin Eubanks, James Moody, Phil Woods, and Jeremy Pelt.
A reminder that tickets for Micah Barnes' "Christmas In New York" concert on December 21st are now on sale at Bop City and Thursday Night Jazz, . You will recall, Micah was the bass singer with The Nylons, and there's an abundance of his performances to view on YouTube. Tickets for this special event are already selling fast: $20 for members, $25 for non-members. To avoid disappointment, don't delay !
For additional information about the amazing series of jazz performances we have on offer between now and the end of May 2018, please select the calendar tab.
GSJS showcases jazz live in the Comox Valley, giving music lovers an opportunity to enjoys local, regional and internationally-known jazz musicians.